WELCOME TO MY IMAGINATION


The Folly Beach Mystery series is set on the small, quirky island of Folly Beach, South Carolina, located in the shadows of historic, and beautiful Charleston. Each book can be ordered from your local bookstore, from any of the on-line bookstores, or by clicking on the cover image which will take you to the order page on amazon.com.


   NOW AVAILABLE
*
The eleventh novel in the

Folly Beach Mystery series, SILENT NIGHT: A Folly Beach Christmas Mystery, is available in paperback through your local booksellers, Amazon.com or BarnesandNoble.com. 
It is also  available as an e-book on Kindle.
 

* 
 *
February 2015: FINAL CUT receives 5 Star Review (out of five) from ForeWord Clarion Reviews, a book-review publication distributed to libraries and booksellers nationwide. Read the review by clicking the REVIEWS tab at the top of this page.
*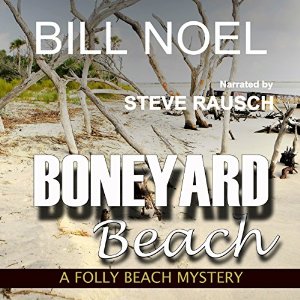 Boneyard Beach is now available as an audiobook. Click on the audiobook cover to be sent to Amazon.com
*  Folly Beach is  small but there have been 27 books either written about, or set on or near the South Carolina barrier island. A listing of these books appears under the heading: Books set on or about Folly Beach at the top of this page.
*
*
* Get a free FBM 4×6″sticker for your car. Send your name and address to:

noel_b@bellsouth.net

.

 

 
*
 

 

*

 
*
*

CLICK

 to watch an interview with Bill Noel
*
* Check out the new Q&A tab.

ADDED AUGUST 2014
* Check out the APPEARANCES tab for 43 photos of Folly AS I SEE IT.
*
* The Folly Beach Mystery series is now a proud sponsor of the FOLLY BEACH BLUEGRASS SOCIETY! The Society performs each week on Folly, and has been strong supporter of the novels since the first book, FOLLY, was published nine years ago.
. 
*
.
*

 Several readers have asked about the publication order of the books. So, here it is:  FOLLY, THE PIER, WASHOUT, THE EDGE, THE MARSH, GHOSTS, MISSING, FINAL CUT,  FIRST LIGHT, and BONEYARD BEACH. New in 2016 will be: SILENT NIGHT, and DEAD CENTER. Thanks for asking.  
*